Joel B. Garzoli Fine Art is proud to announce representation of the work of sculptor/glassblower Evan Chambers.
Evan Chambers creates unique hand-crafted sculpture, combining bronze, metals and hand-blown glass. Each work is unique, with varying combinations of glass, patina and finish detail. They are remarkable conversation pieces, and are sure to arouse curiosity and intrigue.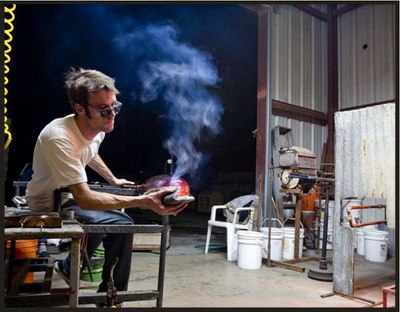 "My name is Evan Chambers and I make metal and glass objects for a living. The roots of my object making reach back into my parents metal and ceramics studios, but my professional pursuit of art began while studying art and literature at Cal Poly San Luis Obispo. It was there I took my first classes in glassblowing and metalsmithing, and there where I met a handful of artists who greatly influenced my artistic vision.
I am attracted to objects that have gained their value through the meticulous design and labor of the craftsperson rather than through the inherent value of the materials used. Copper, bronze and glass are all materials that gain most of their value from labor, and I enjoy being the force who, through working with and combining them, elevates their value."